CVI Cardiologists Complete 200th TAVR Procedure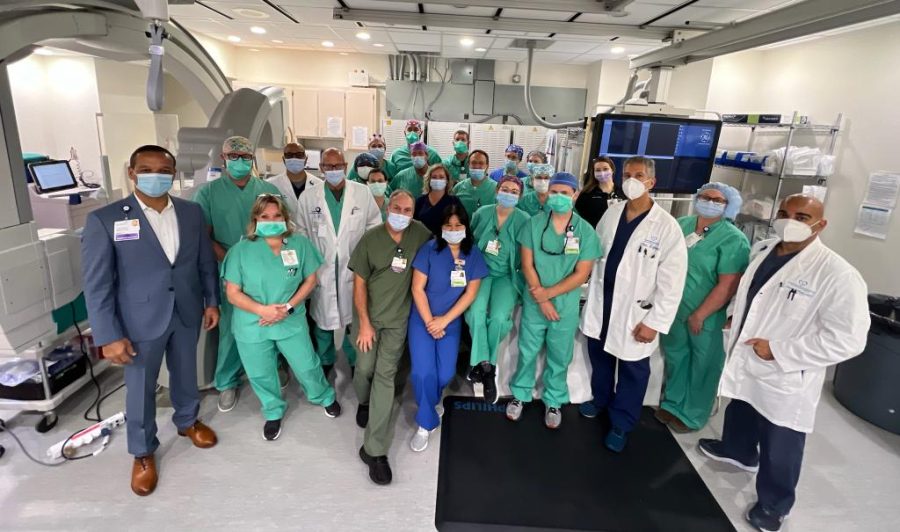 Click here to view news coverage and see an interview with Dr. Haghighat and a TAVR patient.
Ascension Sacred Heart Bay Heart Institute marks 200th TAVR procedure
TAVR is an alternative to open-heart aortic valve replacement surgery
PANAMA CITY, Fla. (July 14, 2022) –Ascension Sacred Heart Bay has reached a major milestone in its minimally invasive heart program. The first transcatheter aortic valve replacement (TAVR) was performed at Ascension Sacred Heart Bay in February 2017. This week, the hospital's cardiac team completed its 200th procedure.
"This milestone demonstrates the commitment of the care teams at Ascension Sacred Heart Bay," said Robin Godwin, President, Ascension Sacred Heart Bay. "The hospital prioritizes compassionate and quality care for our heart patients and offers minimally invasive heart procedures including TAVR, ablations and the WATCHMANTM."
During the TAVR procedure, the narrowed aortic valve is replaced by inserting a catheter into the patient's leg or chest, guiding the new valve to the heart. This new valve helps the heart pump blood properly. The doctor uses tiny incisions, which may shorten recovery time and lower risk of infection. Hospital stays are generally between two to three days.
"This is a life-saving procedure that we do right here in our local community including for some patients who were previously told that their condition could not be operated on," said Dr. Amir Haghighat, an interventional cardiologist and medical director of Ascension Sacred Heart Bay Heart Institute. "Some patients have been led to believe they have to travel for treatment and then they come to us and we are able to provide them with this minimally invasive procedure that helps keep them alive and improves their quality of life too."
TAVR can help restore blood flow and reduce the signs and symptoms of aortic valve stenosis — such as chest pain, shortness of breath, fainting and fatigue. This minimally invasive procedure is an alternative to open-heart aortic valve replacement surgery. Your doctor may recommend TAVR if you have the following:
Severe aortic stenosis, where the heart valve becomes hardened and narrowed, making it harder for the heart to pump blood.
An aortic valve that isn't working as well as it should.
Another health condition, such as lung or kidney disease, that makes open-heart valve replacement surgery too risky.
Successful procedure outcomes require an experienced medical and support team working at a comprehensive medical center that has the ability to manage risk and complications. This milestone at Ascension Sacred Heart Bay wouldn't have been possible without the cardiac cath lab team, the perioperative team, the radiology team, nurses, the quality staff, lab team and many other support staff.
For over 40 years, Ascension Sacred Heart Bay has been a leader in heart health. It is the only hospital in the tri-county area performing both open and minimally invasive heart surgery. This includes minimally invasive valve replacement surgery (TAVR), radiofrequency ablation to treat irregular heartbeat and cryoablation and the Watchman procedure for atrial fibrillation. The hospital has five specialized cardiac catheterization labs, a floor dedicated to care for heart patients and cardiopulmonary rehabilitation to continue care after discharge.
For more information on the TAVR procedure, ask your doctor, call 850-804-2860 or visit ascension.org/bayfl.