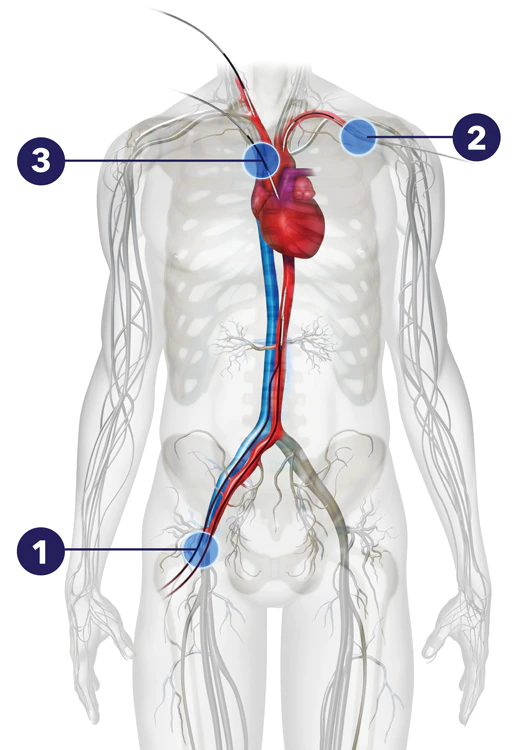 Transcatheter aortic valve replacement (TAVR) is a minimally invasive procedure to replace the aortic valve in patients with severe aortic stenosis. TAVR is less invasive than open heart surgery, and the procedure typically takes one to two hours. Your care team will determine if you should have a mild sedative or general anesthesia.
At the start of the procedure, your doctor will make a small cut in the groin (1), the neck (2), or a space between your ribs (3).
The doctor will guide a thin, flexible tube with the heart valve into your artery and to your diseased valve. Throughout the procedure, your doctor will be viewing images of your heart.
The TAVR heart valve will be placed in your diseased valve. Your new valve will work immediately. Your doctor will remove the tube and close the incision.
This minimally invasive procedure has been offered exclusively at Ascension Sacred Heart Bay in the Panama City, Florida region since 2017.
CVI Physicians offering TAVR:
Amir Haghighat, M.D., Interventional Cardiologist
Samir Patel, M.D., Interventional Cardiologist
CVI Physicians perform this procedure as part of a multi-discipline team with cardiothoracic surgeons and clinical staff at the hospital.