Cardiovascular Institute Physicians Perform First Local Transcatheter Aortic Valve Replacement (TAVR)
Interventional cardiologists Dr. Amir Haghighat and Dr. Samir Patel of Cardiovascular Institute worked jointly with local cardiothoracic surgeons and Bay Medical team members to launch a new  valve program which offers minimally invasive aortic valve replacement (TAVR).  The first cases at Bay Medical were performed in February 2017.  The official press release from Bay Medical Sacred Heart is below: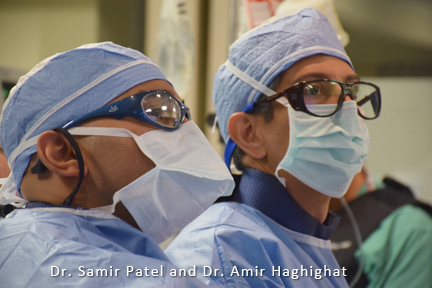 Minimally invasive heart valve replacement now offered at Bay Medical Sacred Heart
For Immediate Release May 8, 2017
PANAMA CITY, Fla. – The area's first transcatheter aortic valve replacement (TAVR) procedures were recently performed at Bay Medical Sacred Heart by a team of cardiologists and cardiothoracic surgeons.  TAVR is a minimally invasive, life-saving procedure for patients with aortic stenosis who are considered too high risk for traditional open heart surgery.
Aortic stenosis affects the aortic valve. In late stages of the disease, the valve does not properly open and close, causing the heart to work harder to push blood through the calcified aortic valve.  Eventually, the heart weakens, increasing the patient's risk of heart failure and death.
One of the first patients to undergo the procedure, Morris Denman, said that his long-time cardiologist, Dr. Amir Haghighat, told him that his aortic valve would only keep getting worse.  The 74-year-old semi-retired pastor said, "Over time as it started to happen, I realized it was not a good quality of life."
When Denman was told he wasn't the most ideal candidate for an invasive open-heart valve replacement procedure, Denman decided to educate himself on the TAVR procedure Bay Medical Sacred Heart was bringing to the Panhandle.  Eager for a better quality of life, Denman became one of the first patients to undergo the surgery on March 15 with cardiothoracic surgeon Dr. Greg England and interventional cardiologist Dr. Haghighat as co-surgeons.
The procedure is performed through a small incision in the femoral (groin) artery.  A catheter is inserted to replace the failing valve, without the need for major open surgery.  The patients typically spend only two to four days in the hospital.
Only one week after having his heart valve replaced, Denman was not only feeling better, he was back in the pulpit. "I am doing not just what I was doing before, but more," he said.
Dr. Haghighat said, "Bay Medical has made an investment in continuing to provide local patients with the best heart care available. All of the physicians and staff involved with the TAVR team have been so pleased to be able to help our patients here, without the need to travel out of town to university centers.  Patients who have had the procedure have been grateful to receive treatment and recover close to home where they have family support."
Dr. England said, "Our success is a reflection of the hard work and dedication of the folks on our team.  We are excited to have this option for our patients here at Bay Medical Sacred Heart. In the past there wasn't a lot we could do for patients like Mr. Denman because there was just too much risk with traditional open surgery. But with this new technology, we can really make a difference in their quality of life."
Nancy Vandenberg also had the procedure in late February. The 89-year-old has had an ongoing heart condition and had two stents placed over the years. Late last year her cardiologist, Dr. Michael Morrow, identified a defective aortic valve.
She weighed her options: traditional open-heart surgery or this new TAVR procedure. She also considered going out of town but in the end opted to stay and have the procedure at Bay Medical Sacred Heart.
"I didn't want to go out of town at my age and I didn't want to travel for appointments," said Vandenberg. "When I considered the alternative of open-heart surgery and a long recovery, going into a rehab center for three or four weeks, the choice was easy. I didn't feel at my age I could go through open heart surgery.
"After the procedure I was up the next two days and went home. I feel better than I have in a long time. This new procedure is just miraculous and so are the doctors."